COMMENTS ARE NOW CLOSED!!!  GOOD LUCK TO ALL AS WE PICK THE WINNERS!
There are a lot of feathers ruffling about in the past few days with closings and changes in the quilt world, as well as challenges as to what it means to be a quilter. So much unnecessary need to align one's self with just one certain style or dogma, real, imagined or put upon by anybody in the quilting world, and that includes me.
I truly believe that there is room out there for all of us to happily create.  I live with the philosophy that the more you have the longer your table should be. We have a lot here at BAQS so our table is endless with room for every quilter who wants to be part.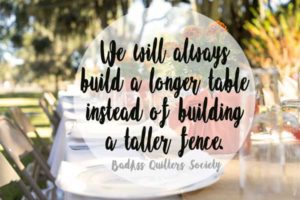 Of course I have a total soft spot for those who are sassy and more than a little bad-assy but think that BadAssness comes in so many forms with it's only membership obligation being to live your truth and let others live theirs to the fullest.
I believe in The Democratic Nation of Quilting™  <— pay attention there; it is going to be a thing!
We are the BadAss Quilters Society™ and we believe that quilting is a democratic pursuit and is open to anyone who wants to create. We are not bound by any style, stitchy dogma or rules that set unintentional or restrictive boundaries on creativity.
You are welcome here. One of more than 16 Thousand …. Let the giveaway begin!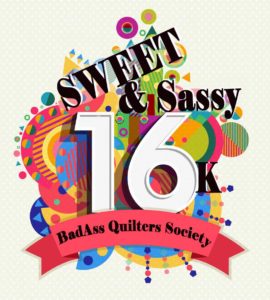 Today we begin our celebration of 16 Thousand members of BAQS. We thank our sponsors for their endless support and we encourage those who are leaving a comment to enter the giveaway to also click some of the sponsor links and take the time to say thank you to them!
Aurifil – Our Grand Prize Sponsor!   For our Grand Prize Winner a gorgeous custom storage case filled with one of each color in the Aurifil collection. A swoon-worthy gift to say the least!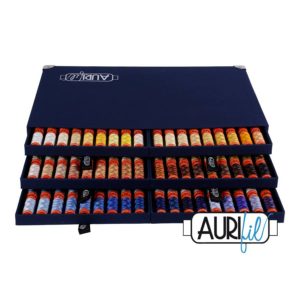 Generation Q Magazine – A creative force in the quilting world with fresh content in every issue. They have given us issues for all the winners!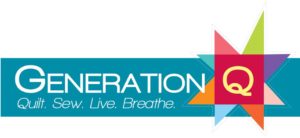 Sue O'Very – Designer  Patterns and embroidery that make the creative life even better! A gorgeous selection of patterns for each winner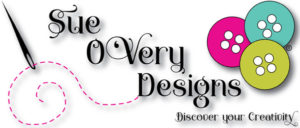 Persimon Dreams – Host of  Project Quilting  Stretch your quilting mojo with Kim as your inspirational guide. You will fall in love with her Dresden Neighborhood pattern, one for each winner.

Sam Hunter – Hunter's Design Studio  Patterns for everyone from the beginner to the quilter looking for a challenge. Ignite your stash with a 10 HDS pattern package (her latest releases) for all of our winners!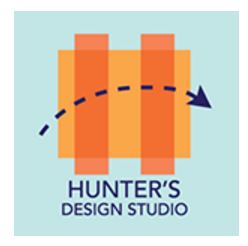 Paula Reid  – Batts in the Attic  Domestic Machine quilting guru Paula Reid has a full weekend of education in a box for each of our winners!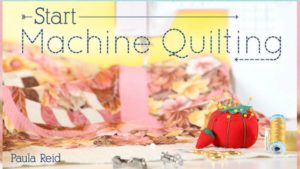 Martingale Publisher of on-point quilting and sewing books, not to mention the publisher of the newest book that in which I am a contributor! 1 book copy for each of our winners!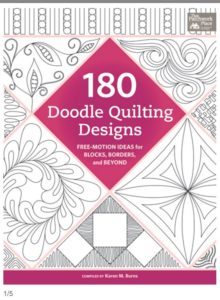 Villa Rosa Patterns  Perfectly collectable patterns with options for everything from charms to yardage. Inspiration for every quilter and a whole pack of patterns for each of our winners.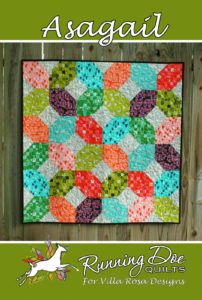 Fiber on a Whim  Supplies and inspiration for the out of the box quilter!  This stuff rocks!!!!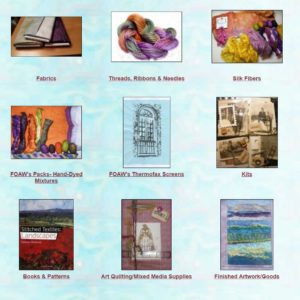 Red Bandana Lights  Have an amazing machine that does not give you enough light? .. The Red Bandana light rig in going to be your favorite new thing! One for each winner!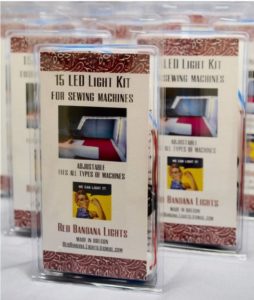 SPOOL – Sassy Southern Sewing. $250 gift certificate for the Grand Prize winner and  3, $150 gift certificates for the runners up!
To enter the giveaway is simple… you will leave a single comment  answering the question – Will you be going to any sewing retreats or Quilt Shows this year? Please tell us just a bit about that.
Our winners will be drawn on August the 14th and the winner's announced that night on the BadAss Quilter Facebook page.  Winners must check in within 24 hours …. you snooze you lose! If any winners do not check in we will redraw on August the 17th.
Ready????  Let's do this!