It's that time of year again! All the positions on the Guild executive council are up for election, and before you ask, yes it has been a whole year since we went through this and, no, we can't just let anarchy reign. So please take a moment and meet the candidates for guild president, and remember: write-in votes are not considered valid and George Clooney probably doesn't want the job anyway.
Marjorie Dornan has been the Hospitality Chairman…Chairperson…Chairist—whatever— for nearly ten years now and thinks it's high time she got to do something else for a change. Do you know what the Hospitality Chairhuman actually does? Greets visitors and new members at the door. Why is this even a thing? No one can actually remember the last time we had a new member and the only visitor Marjorie has ever greeted was the kid who wanted to "catch a Snorlak," whatever that means. Probably something to with drugs.
Marjorie would like everyone to know that she is perfectly capable of handling being president because it can't possibly be that hard. I mean Linda did it, for Pete's sake. Linda herself once said to Marjorie that she could probably spend an entire meeting asleep and snoring like a jackhammer and no one would notice, that's how much attention everybody pays to the president anyway. So, instead of ignoring Marjorie in the back of the room, maybe we could all ignore her at the front of the room for a year. Perhaps then she could actually see the stuff during Show and Tell and not have to rely on Sally Mumford whispering about how ugly they all are to have any idea what's going on.
Vote Marjorie: You People Owe Her
Jessica Youngchild is a world-famous quilt pattern designer, fabric designer, YouTube star, and the author of the bestselling book, Pathologically Perfect Quilts. Jessica is certain everyone understands this election is just a formality since she is obviously the only candidate who has any real accomplishments, but she is willing to go through the motions to show that she is in touch with common people. Jessica will revitalize the Guild program schedule by bringing in all her industry friends to do obscenely priced workshops that suit Jessica's personal aesthetic and/or networking goals. She will also be making note of any quilts that the rest of the membership are working on, and if she determines that any of them even remotely resemble something she once thought of making, she will sue you so hard you'll cry for your mommy. And if you actually manage to come up with something original, Jessica may still sue you just because she can. Jessica will do a book signing at each meeting, with the purchase of a book, or you can purchase a Fan Package for $130, which includes an autographed book, a photo opportunity, and VIP seating during the Guild meeting. Please remember Jessica does not like to be touched or make eye contact or engage in actual conversation with non-famous people.
Vote Jessica. Now.
Roberta Nygard is a quilter, a mom, founder of the Vegan Quilters For Organic Tampons Facebook group, and owner of the GreenOrganicEcoCrafterGoddess Etsy shop. Roberta is committed to making our Guild eco-friendly, sustainable, and ultimately entirely compostable, including the quilts. Far too many non-renewable resources are being used each month at Guild meetings, so Roberta proposes all future meetings be held in the woods and we can all just poop behind a tree. Roberta will also sponsor the creation of a Guild hemp and bamboo farm, with the goal of eventually producing all our own fabric, thread, needles, snacks, and feminine hygiene products. Meetings will be held at dawn so that we can do naked sun salutations while thanking Mother Gaia for her bounty, and Roberta will bring her famous chia kale loaf to share. Meetings will conclude with a holistic chiro-puncture steam alignment and chakra cleanse, followed by a fat quarter swap.
Vote Roberta. Preferably while pooping naked in the woods.
Amber Halliday believes that being Guild president is all about F-U-N…FUN! F is for Fresh new ideas. Let's find new ways to raise money, like a car wash or a bake sale! If it works for the PTA (of which Amber is also president, by the way) it can work for us! U is for Uplifting. Let's raise each other up instead of tearing each other down. Amber proposes a Quilter of the Month award to be given at each meeting, where the winner gets a tiara and a feather boa and a sparkly magic wand (all handmade by Amber, of course) and gets to sit in the Queen Quilter throne for the entire meeting while everyone tells her how pretty her quilts are and no one is ever allowed to mention the fact that she uses too much pink. And, lastly, N is for No More Nudity. This is a quilt guild, not some hippy-dippy art collective, and if Amber has to see one more nipple on a quilt she will not be happy. Some of us have children, you know, and they could hear about the nipple when we go home to tell our spouses how outraged we are by it, and then they'll join a gang and it'll just be nipples, nipples, nipples. Is that what we want? Nipple gangs?
Vote Amber: She Knows What's Best For You
REMEMBER: Voting will take place at the next meeting and you must be present to vote. Stand-ins of children, pets, spouses, or pizza delivery boys with a name spelled out in pepperoni are not allowed. We cannot prevent electioneering outside the meeting area prior to the event but please do not accept offers of fabric, long arm services, first-born children, or chia kale loaf in exchange for votes. Anyone who riots after the votes have been tallied will be asked to leave the guild. Let's have a SWAT-free election this year!
*******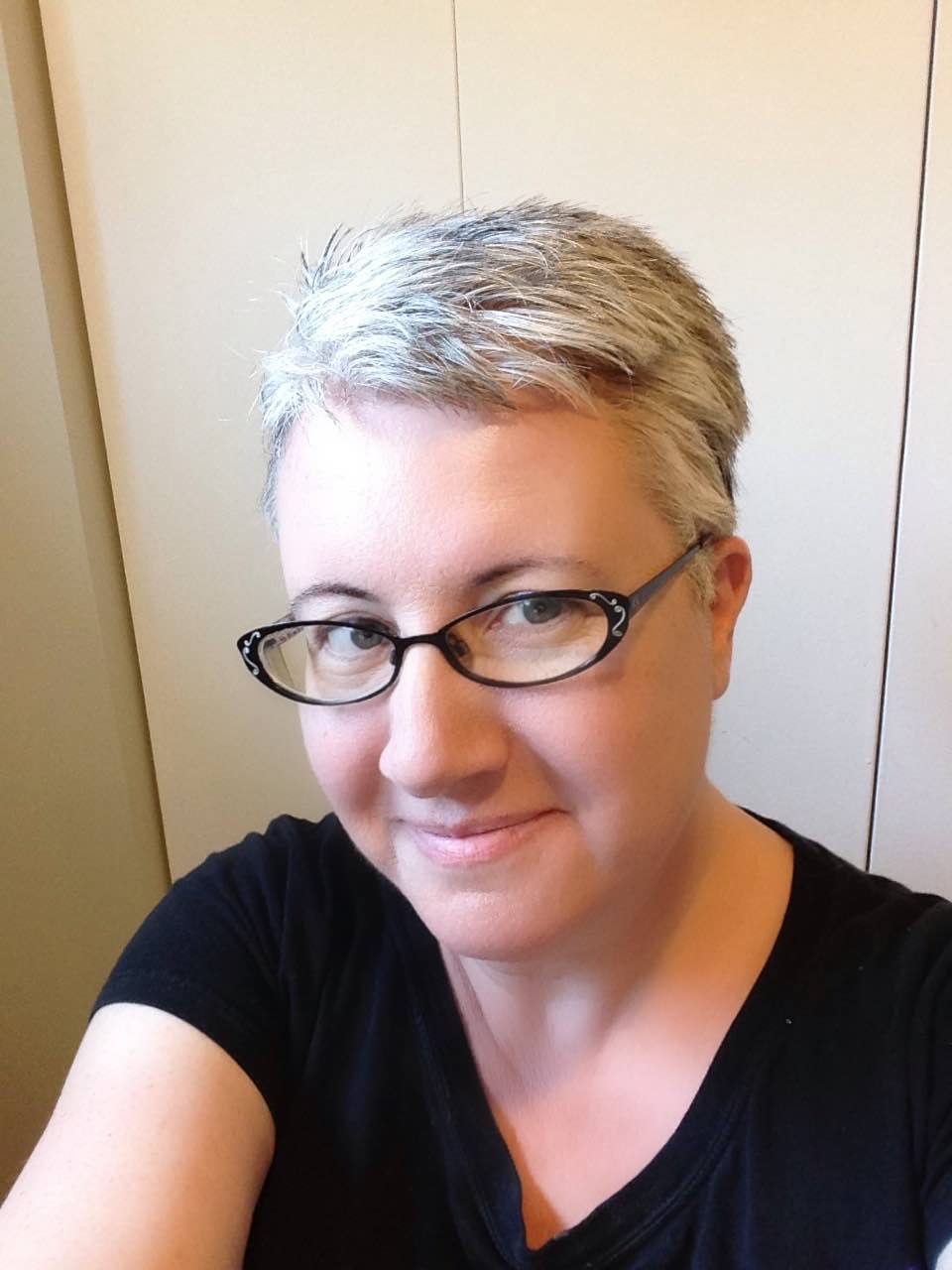 Megan Dougherty has been blogging and quilting as The Bitchy Stitcher since 2008. She was the humor columnist for Quilter's Home magazine and Generation Q magazine, and was also the art director at GenQ for its first year. Her first book, Quilting Isn't Funny, is available in paperback and Kindle on amazon.com. Follow her on Facebook and Instagram.