Today I hand over the writer's chair to Erika Mulvenna this week's Cover quilter to let her tell us a little bit about herself and her exciting journey into the world of quilting!…..  take it away Erika…
Hi, I'm Erika, and I'm glad to meet you! First, I want to say a huge "THANK YOU" to Maddie and the Bad Ass Quilter's Society for inviting me to share a little about myself with all of you.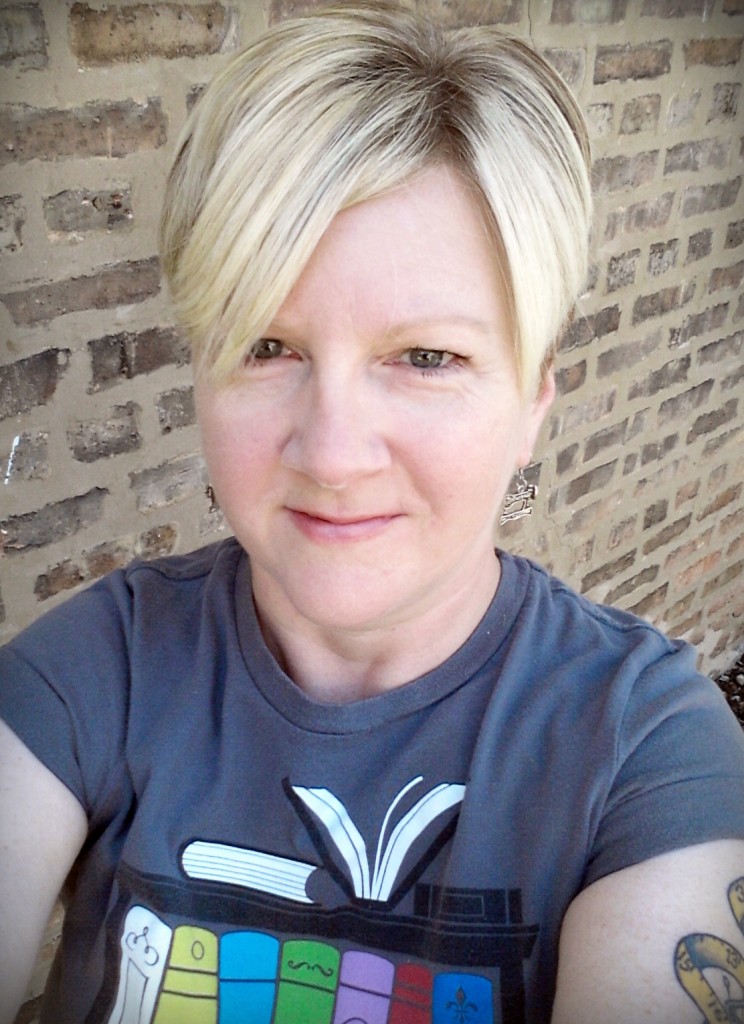 I inherited my love of making stuff from my parents, who were both creative in their own ways. My mother loved art and often painted as well as sewing, crocheting, and beading. My father was always making little projects too, like an owl wall hanging from macramé, a mobile with shapes from bent wire hangers, and even handmade kites.
Naturally I picked up all kinds of crafty stuff from my parents, including lessons from my mother on how to sew (by hand and with the sewing machine). Mom also taught me to love painting and how to experiment with mixing colors together. I followed my passion for art and sewing by studying fine arts in college, earning a Bachelor's of Fine Arts degree majoring in Fiber Arts. I learned how to dye and silkscreen fabric by hand in school, and created pieces like this Coffee Cup Dress from plain, white cotton.
Although I've been sewing for a long time, I mostly made garments and crafty stuff, but stayed far away from quilting. Back then I just didn't see anything in quilting that excited me. My feelings about quilting changed a few years ago when I became a stay-at-home mom when my little girl was born (a.k.a. Fidget), and suddenly I had lots of extra time on my hands. I began to see a new kind of quilting – what now is called Modern Quilting – and the style really inspired me to give it a try. The first quilt I made was stitched from recycled vintage fabric scraps and solid colors (did I mention that I am completely obsessed with vintage sewing stuff?), made it for my Fidget. I can't believe that I got it all together; you wouldn't believe how hard it was since I didn't know a thing about cutting or piecing! It's a bit wonky, but Fidget loves it anyway.  Oh, and Fidget's quilt was recently featured in a video episode of Quilty's This Is My Quilt – click here to see more! (Direct link: http://www.qnntv.com/videos/1110_qnn-qty-e304-px-v1-this-is-my-quilt-wspecial-guest-erika-mulvenna/ )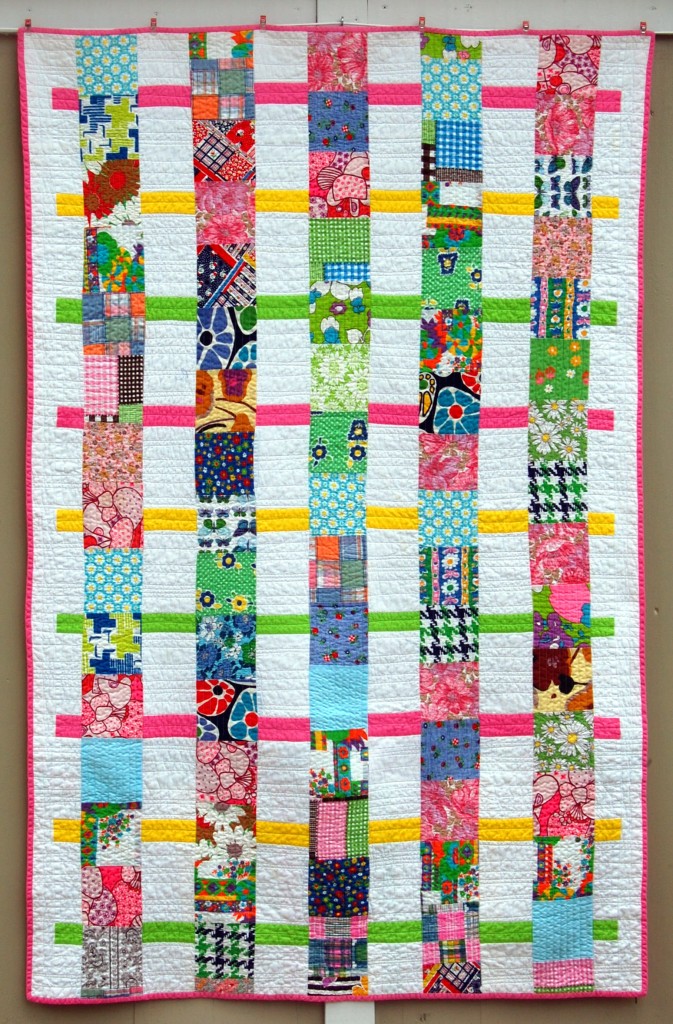 My first love with quilting is the process of thinking in just two dimensions with fabric, and how that gets translated into piecing. I've been practicing improvisational piecing, just starting with a pile of scraps not knowing what the end result will be. This yellow and blue quilt started out as just one block, and I seriously thought I was just going to make a few blocks, but the more I pieced the bigger it got – until it was a quilt all on its own!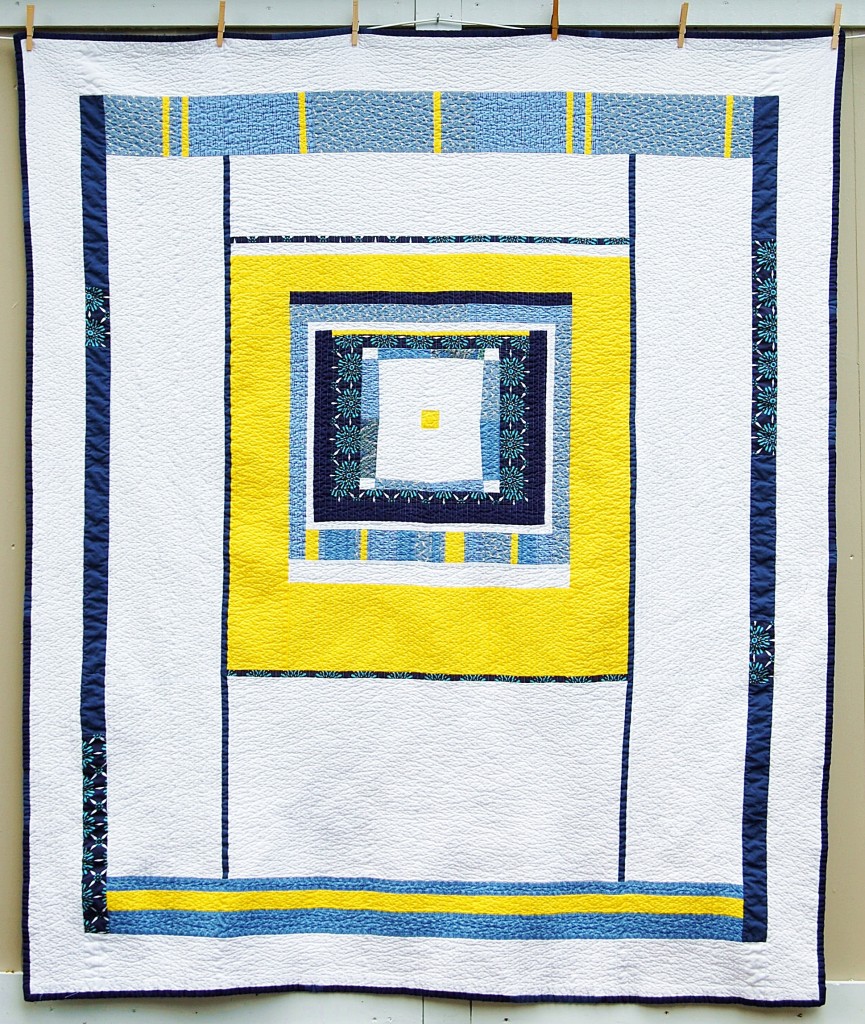 I have also been experimenting more with what you might describe as art quilts, but what I like to think of as painting with fabrics. Here's a little quilt I finished, kind of a landscape with power lines. This was an experiment to see how "realistic" I could get using fabric.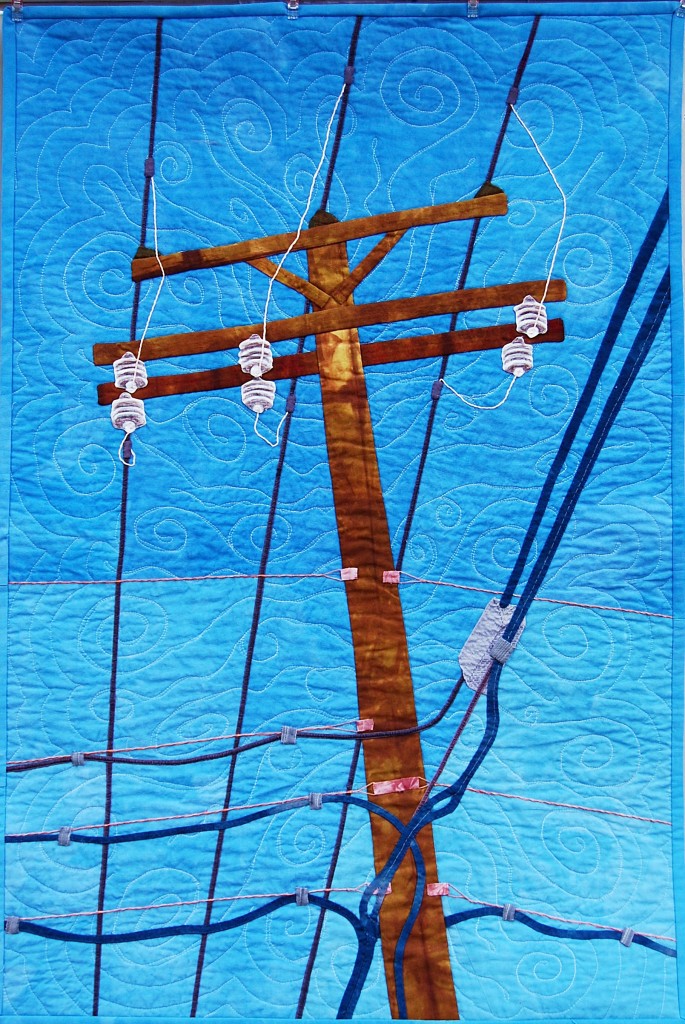 Another landscape inspired quilt I made is this Sunrise quilt which was exhibited at QuiltCon earlier this year. This was a kind of seat-of-the-pants idea I had, and I really like the results.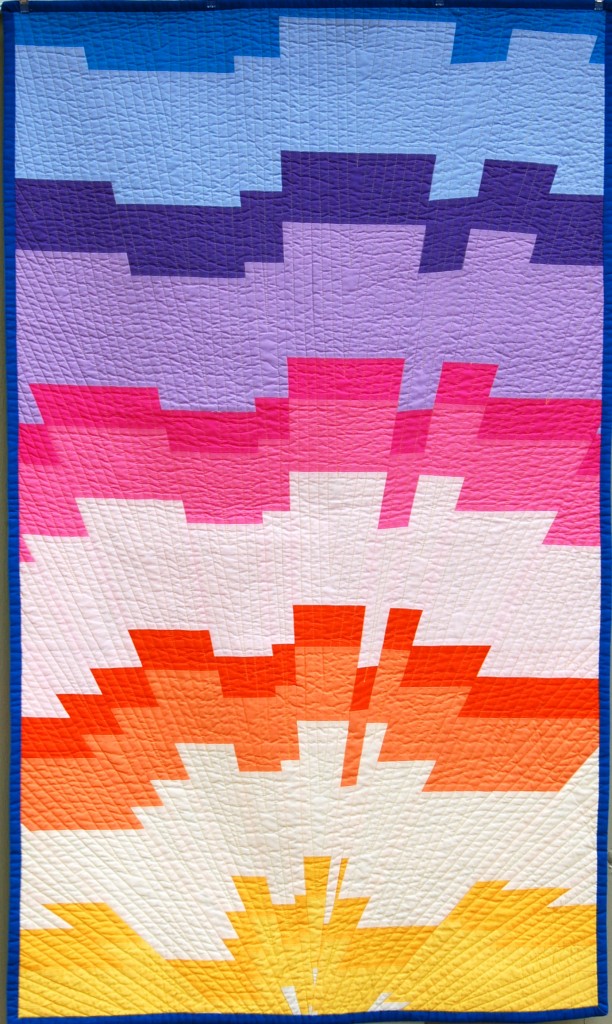 And I'm currently working on another little experiment with colors, another version of a sunrise – this one using up lots of scraps from my scrap bin. Visit me at my blog, Miss Sews-it-all to see pictures of the finished project soon! (Direct link to blog: http://sewsitall.blogspot.com)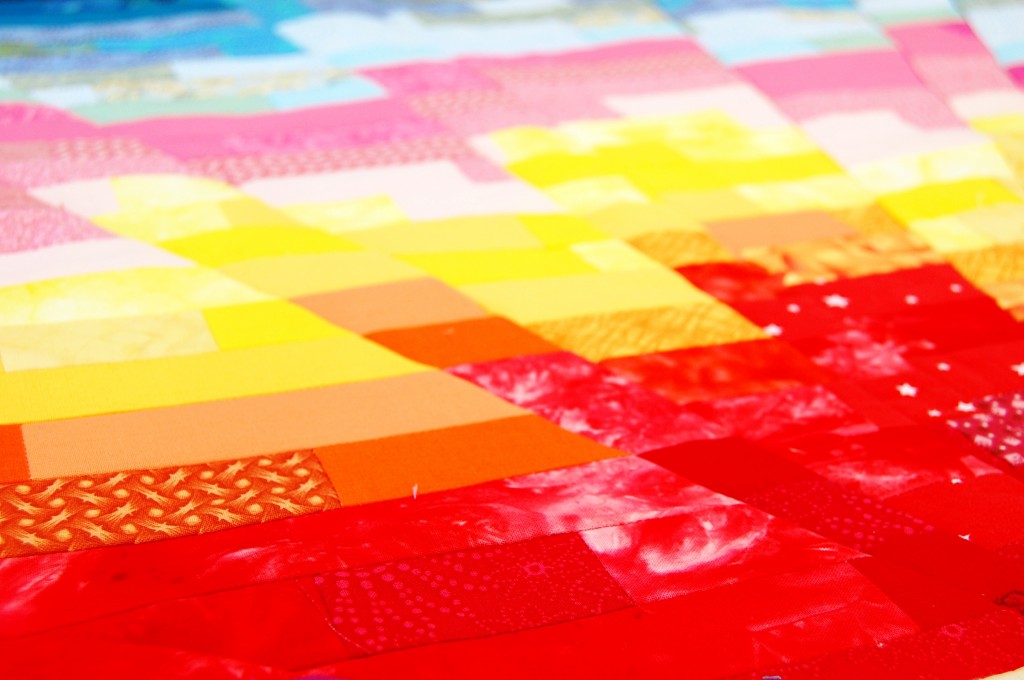 I think really the BEST thing about quilting is all the new friends I've met, both online and in real life. It is so good to finally find friends that are just as obsessed with sewing machines, fabrics and threads as I am!
 Thank you Erika!!!!!  It was a joy to have you here and I hope you totally love your week as  our BAQS Cover Quilter!