Today I am really excited to be sharing  with you  the first of many sewing machine reviews by BAQ's that you know and love.  I know that when I am thinking about a new machine the first thing I do is talk to my friends about what they are using and loving ( or not loving). I do this before even thinking about what I want to get.
I place a lot of trust in the reviews my friends give but always remember a machine is just about as personal as a spouse!  What one person loves another might hate so keep that in mind as you read and leave comments or questions.
My hope is that over time we will establish an amazing array of reviews that will be here when you are looking for that next new machine!
Today's review comes from Melissa Brooks of www.millybeequilting.co.nz . I saw her talking about her machine online and wanted to know more about it and thought you would as well! A BIG THANK YOU to Melissa for all the time and care she put into this review!
( If you have a machine you want to brag on drop me a line!)
***************************************************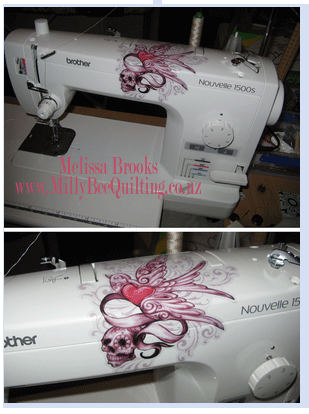 When Maddie asked me to review my bad ass sewing machine, I was over the moon. I've never been asked to do anything like this before so it was certainly a challenge for me to even know where to begin. 
Before I go through all the ins and outs, pros and cons of the machine, firstly I wanted to share with you why I chose this machine to begin with. 
Please note that I'm in New Zealand, machine availability and prices over here are a little different than other countries, and I hope I have the right information for some of the other machines I mention, apologies up front if I've misinterpreted their websites. Also can I start by saying I love all sewing machines big and small! 
It took me close to a year of research to come to my decision to purchase this particular machine. And before I get any further, although I already had a Brother Innovis NV400 (A Babylock Melody for the US peeps) I swear, it is pure coincidence that I ended up with another Brother sewing machine. 
When it came down to it I found that, within my budget range and given the requirements I had, there were really only three contenders: the Brother PQ1500s, the Juki TL98, and the Janome 1600P (given that the Husqvarna Viking Mega Quilter and the Pfaff Hobby Grand Quilter are the same machine as the Janome 1600P just rebranded and sold for a higher price, DISCLAIMER: so I've been told by a retailer) I also have a sneaking suspicion that the Brother and Juki may be distant cousins, just going off looks… 
All of these are in the same class of straight-stitch-only machines boasting 8.5-9" throat space, and 1500 stitches per minute etc..
The main thing I wanted to do was freemotion quilting (not on a frame) and have a sturdy, no fancy computer, good, hardy machine. I did want the machine to be able to go on a frame for if in the future my luck changed and I "just so happened upon" a quilt frame for it. 
So, after doing my homework, I found the Janome 1600P didn't have the ability to actually drop the feed dogs, it had an additional kit you could buy to cover them up as well as the extension table also being an extra cost… so that one eventually dropped off my radar, it wasn't built with freemotion in mind, it has adapted well, but I wanted to keep looking. The Juki TL98 was then the strongest contender, but the Brother PQ1500s had the kicker of four various feed dog positions with one of them including a pin feed system for particularly tricky to deal with fabrics, whereas the Juki has the up or down setting only. 
The Brother comes with everything you need for freemotion, and the extension table comes standard. All these things meant the prices of the other machines were not so comparable anymore. Then, after checking out the quilting/darning foot the Brother definitely won the battle of the straight stitch machines. 
There was probably a lot more to it than that in reality given the time I sat dreaming of a new machine over that year, but seeing as I'll show you all the things I love (and maybe don't love) about my Brother sewing machine now, it might mean a bit more if I acknowledge that it is not the only machine in its class out there. 
Because my intentions for this machine are based primarily around tabletop/domestic free-motion quilting and piecing, my review will be very narrowly based around those functions. 
So on with the show… 
The technical stuff:
1500 stitches per minute (spm) = FAST
Four Feed Dog height adjustment settings = GREAT
Optional pin assisted Feed Dog mechanism = AWESOME for slippy fabrics
Front facing Feed Dog adjustment dial = CLEVER
Front facing thread tension dial = HANDY
Knee lift = EXPECTED
Extra large extension table = BONUS
Automatic thread cutter = EFFECTIVE
Easy needle threading system = EASY after a couple of practices 
The machine alone weighs about 11 kilograms (24.2 pounds).
With the extension table on, you have a total of 11" x 23.2" inches of flat space to work on.
The all-important throat space (from needle to neck and up) is 8.6" in width and a 5.7" height. 
But enough about all that.. why do I REALLY love it? 
The best thing I really love about this machine is the free motion foot. It is oval, it has a large see-through window, is not too bulky and just glides over the quilt top. They've put a lot of thought into this foot, it works great, there is great visibility and its a dream to work with.
The next best things are the build quality and the portability. This is a DOMESTIC machine.. you can put it in the car and take it with you, but its big and sturdy enough to run on a quilt frame (if I had one!), and as my sewing machine serviceman put it, you can use it all day, everyday.
It will run with every thread you can imagine. It has a front facing feed dog adjustment knob, so no more reaching blindly through the machine throat when you just need to drop those darn dogs! 
The bobbin can be loaded while the extension table is on, so if you do need to quickly get-in and get-out its easy to do. 
There is a needle down button this makes sure that when you stop sewing the needle is always down, great for the forgetful's like myself that often go into auto-mode and whip that presser-foot lever up without thinking! 
It only has one stitch, straight. Granted you can sew forwards and backwards so I guess technically thats two, right? It can be great to have a machine that can do-it-all, but its also good to have workstations where you can do one specific job and do it well. 
This machine is quickly also becoming my go-to machine for piecing, the quarter inch foot is great, and with the way it handles thread, my seams have greatly improved. The other thing that helps with piecing is the needle plate, because it is a single hole rather than the horizontal gap the zigzag machines have, the fabric is less likely to be pushed through and get caught in the bobbin race when beginning a seam. The other thing I wanted to add, I liked this foot so much that I've now got the same one in the clip-on version for my other machine.
This, for me, is a purpose built machine for my free-motion escapades, my other computerised machine can then do what it does best and embellish my applique with blanket stitches. This also makes sense for me as my computerised Brother NV400 has the relatively smaller throat space. The maximum amount of fabric I need to worry about at any one time is the quilt top. The quilt sandwich can then happily be dealt with using the "Big Brother" PQ1500s (I know bad pun, but thats what I call them!) 
A couple of things it doesn't have is a stitch speed limiter, an auto tensioning function and an optional stitch regulator, but given all these things would mean adding a more computerised brain and therefore more price, I'm quite happy that these things are left up to me to manually control. And these didn't end up being an issue. 
This machine will keep you honest, you may need to spend a bit of time really getting to know the machine at the start, but it will pay off in the end. In saying this though, you can be off and running almost instantly. 
A few tips (just because you can't get me to be quiet!) 
Always make up a sample exactly like your sewing project to get all your stitch and tension perfect before working on the real thing. 
When free-motion quilting I ALWAYS use my Machingers gloves, ALWAYS. I don't use a hoop or a supreme slider, even though I have both of these, the main thing is those gloves. They fit nice and tight, they have the rubber finger tips and are a comfy material so let your skin breathe over the long periods of time you can be quilting for. 
I love using Filtec Glide thread with the magna-glide prewound bobbins, if you get the magna-glide bobbins be sure to also get the bobbin case they sell that doesn't have the spring in it. It will save you trying to attack the one and only bobbin case Brother gives you, and it means you have the original for when you use the bobbins you wound yourself. 
BUT in saying that, PLEASE don't get sold on one brand of thread because someone said so, try them all (or at least a few) for yourself. This machine can handle all sorts of grades of thread, its up to you to decide which ones you like because of its qualities rather than the brand name. You may need to play with tension and needle size to get it set up, but you can have a lot of fun with all of them. 
Thanks for getting to the end of my first review with me! I hope this has given you some insight into my sewing machine decisions, and that you can see why I fell in love with my bad ass sewing machine.
***********************************************************************
WOW!.. like I told you…that girl can do a review…   Melissa Brooks is one talented lady..  If you want to get to know her a bit better.. just check out her bio ( below) and pop over to visit her blog.. I am sure she would love a visit!
Melissa Brooks
Manukau, Auckland, New Zealand
I began quilting in 2004 when I found a magazine at my local bookstore, and fell in love with the cover quilt.. the rest, they say, is history.
I create custom made quilts for friends and family, from baby comforters to double bed covers and art quilts.  I love to personalise them so they all tend to be a little different. I'm not sure you could sum up my style, like my taste in music, its a bit eclectic. I do tend towards applique and freemotion quilting when I begin thinking about my design process, I love to push the boundaries in the way I think about things.
In the past I have had a market stall selling various smaller sewn items. I've joined the Auckland Patchworkers and Quilters Guild a couple of times over the years.
My weapons of choice are a Brother Innovis NV400 for piecing and blanket stitch applique (and other decorative stitching). I also have a semi-industrial Brother mid-arm, the PQ1500s, for piecing and freemotion quilting (the equivalent machines in America I think would be the Babylock Melody and Jane respectively)
When I design my more complex pieces I use illustrative programs (like inkscape) where I can be super accurate when planning the quilt dimensions and take my time developing the custom applique images. I must confess though, I have only followed a full quilt pattern, that I haven't made myself, once. Although I do have a mass of books, magazines and good intentions!
I grew up drawing or painting, and continue to fill my notebooks with sketches still. My other love is geography and geology which eventually became my livelihood. I have a full time job in GIS (mapping) with a background in CAD, cartography and general GIS analysis. I would love to create a map quilt at some stage, I've seen a few out there in blog land already, but I've got a couple of ideas in my head that are busting to get out..
Unfortunately there are about a hundred more ideas for quilts that would just die *insert girly squeal here* if I didn't get a chance to make them.. ones in the pipeline include Space Invaders (how fitting that it is one of my UFO's) and a Gnome/Kabouter based woodland theme.
My dream is to one day own a quilting frame for my mid-arm machine. I'd love to work on my freemotion quilting skills (and confidence) more in the future. And one day to make quilts on commission, now that would be awesome!
My short term goals are to continue developing my website, I'd like to include reviews and complete a section that will show and explain the steps of how to make a quilt (as much for myself as for others wanting to get started). Oh and I have a pipe dream of being a fabric designer!
When I'm not quilting or looking at quilting things on the net, I'm spending time with my husband and son. Oh, and by the way, my fav music bands are the Eagles, Iron Maiden, Jack Johnson, Prodigy and Pink! (I told you I can't make up my mind! I love them all)