Today we welcome Julie Johnston who is the principal designer  at
owlydesign.ca.  
 Julie is a sex positive quilt designer who will be ringing in here at BAQS about all things quilty and sexy.
 What's that you say.. Quilts and SEX… yep. BAQS is so much more than just quilts, it is about leading your best BadAss life from the kitchen to the bedroom. Join us in enjoying all the great parts of life!

What happens on top of and under quilts, seems to be a taboo subject. Far too taboo, if you ask me… but I am the designer behind 'Vulgar Quilts.' A series of paper pieced patterns depicting sex toys. Pushing the limits of propriety, has always been a pet project of mine.
So let's talk about sex. Let's talk about you… and me.
Normal everyday people, who don't look like they fell out of the pages of a fashion magazine, or off of a porn set. I'm sure many of you have looked in a mirror, in all of your naked glory, and found something not to societal ideals. When I look in the mirror, I see my size … my curvy, larger than average body. 
The body positivity movement has helped normalize bodies of varying sizes, and encouraged larger people to embrace our beauty and sexuality in whatever shape it comes. As quilters, when we have a stack of blocks to improv piece, we take blocks of all sizes, without judgement, and creatively combine them so they fit together perfectly. 
In preparation for this piece, I spoke with as many curvy friends as I could, to ensure I had a basis of understanding greater than my own life experiences. Self esteem has been a huge recurrent theme in these conversations. From discovering at early ages that our bodies were "fat," unacceptable, and not good enough – before having the mental maturity to even process such criticisms. To healthy adult relationships, where one woman said, "he makes me feel like I'm a supermodel!"
How is it that we can experience such polar opposite situations that impact our sense of self so deeply? Unrealistic media and societal ideals could be one reason, but there are many.
Trying to look at ourselves through our partner's eyes, can be a really interesting introspective exercise – even a bridge to increased self-esteem and sex positivity. Try it! Try looking at yourself and seeing the positive traits that they see. Your partner is there with you, not in spite of you. We all have different artistic aesthetics in our work, much like the qualities our partners find attractive in us, and we in them. Some of us swoon over modern improv quilting and some over whole cloth quilts. There is love and appreciation for all of the forms our art takes, as well as, the bodies in which we reside.
One of the amazing partners I spoke with opened my eyes to some science behind our attraction to curves, the hyperboloid. A hyperboloid is the sexy shape that forms when two opposite curves entangle at a 90 degree angle. Think of your neck, waist, cleavage or many of our other curvy bits. These alluring features are amplified on the plus-size body. The complexities of our human sexuality, are as complex as the curves and shapes we turn into beautiful, two-dimensional pieces.
Isn't this supposed to be about sex?! I'm getting there. 
Sexy is a state of mind, it has nothing to do with your size. I know that is a difficult concept, but when you feel sexy and confident, you emit sexy and confident. 
Communication. Amazing sex is about communication, not size! Talk to your partner if things are not working just right, or are feeling uncomfortable, you can always make adjustments to increase comfort and pleasure. Talking, giggling, toys, lube, accidentally falling off the bed – it's all a part of enjoying one another. Take your time. Use one of your quilts as an absorbent drop sheet – you know how well pieced, batted and backed your work is. It will be comfortable, survive the wash, and you won't have to change the whole bed! Remember to experiment. Intimacy evolves just like improv piecing, until you have a beautiful finished quilt…and you start all over again.
Have fun with all of your curves!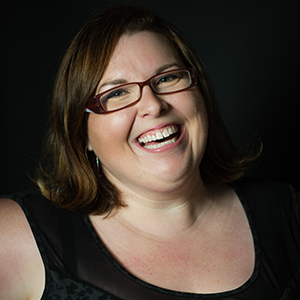 Julie Johnston is a Graphic Designer and Modern Quilter in Ottawa, Ontario. She owns Owly Design and Longarm Workroom. She has designed for FreeSpirit and has launched her own pattern line of paper pieced patterns. When she isn't covered in thread or designing for clients, she spends time reading, attempting to adult, raising a little boy, and product testing sex toys. She is currently adding to her line of Vulgar Quilt blocks. You can find her on Instagram @OwlyJulie
Julie Johnston
Principal Designer