When I am getting serious about my stash my first step is to sort. When I sort it is down and dirty and requires only cardboard boxes and the fortitude to lay my hands on every bit of fabric in my studio.  I suggest a nice long audio book for this.. as a rule this is a 10-20 hour adventure!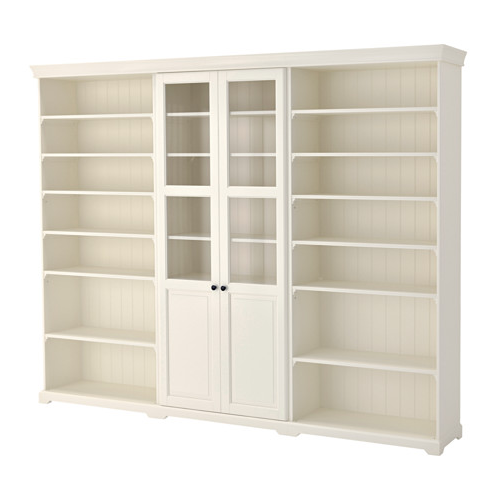 While it is much more exciting to go buy storage bins, cabinets and baskets; until you know what you REALLY have this can be a waste of money. Not that you can't ponder on what would work for you once you get this beast ready to go back in it's cage!
I happen to be swooning over this Liatorp system from Ikea, but am also finding some significant sun damage on some of my fabrics  stored not even near a window and am thinking that a closed door system might be best when creating my new studio, if not as pretty! And as you might note this means some of this fabric has been just sitting there for a while.. ahem… I really need to get my act into gear!
How you sort if really more based on the type of quilter you are and is also a time to reflect on what is working and not working for you. If you happen to buy lots of FQ's but then never seem to use them it is time to look at this for what it is… and decide to change or just call a moratorium on the purchase of these lovelies since perhaps they are not really working for you.  Same goes for kits, patterns or tools.
Generally I start with 5-10 moving size boxes.. the type/size for books. You don't want them too heavy when filled and fabric is heavy! I also designate box for swap/sell and for donation. In my case the fabrics are going into the boxes for the move this time but usually I just use this as a sorting system so that I can get things off the shelf, see them, lay hands on them and see if they still speak to me.
My basic categories are:
Fat Quarters – I break mine apart by color and not collection. Break up those pretty bundles and USE THEM!
Kits – I am not a huge kit person but for some this going to be multiple boxes!
Yardage –  Enough for a quilt back?.. I unfold each piece to see what I have going on there. If feeling really ambitious I note on them how much so i don't have to do this again… 65
Bolts- Yeah, remember I used to own a quilt store…
WIPS ( works in progress… a large and shameful variety)
Scraps of note – what?… i have favorite scraps!
So here we go!… get those boxes ( I get mine at Lowes).. and let's get started!  As I fill up bags with fabric that no longer needs to be in my stash I am going to be listing it up on the BAQS website ..and heck I might just give some away… would you be up for that?  After all one quilter's trash is another's treasure!
Are you enjoying this series… getting anything from it? If so please share it with others so we can grow the the BAQs community!