Some of us have it, some of us want it and some of have what only seems to a hopeless array of unrelated fabrics living in the the same general space making them feel more bothersome than useful.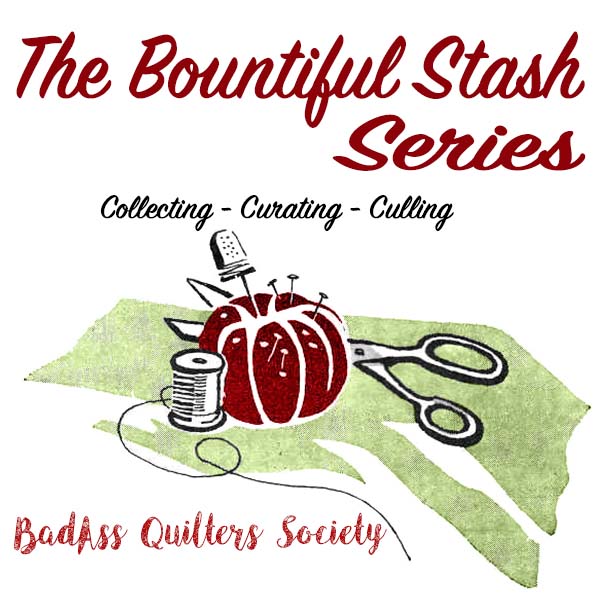 We are talking about a useful stash of fabrics and notions that allow us to create wonderful projects no matter the hour and without the delay of having to run to the fabric store to make the vision in our heads come to life.
Over the next couple posts I am going to explore how to curate a stash that makes sense for that type of quilter/sewist/craft person you are.  For some this might mean a thinning of the heard so to speak and for others this might mean creating a shopping list that helps you fill in with fabrics that will make the rest of your stash sit up and take notice.
I think of it a bit like how I work in my flower gardens. My roses as always better off when I get in there and really prune back what is non-essential so that they can flower in the most abundant way.
COLLECTING – CURATING- CULLING
I also add a new plant here and there to add spark and variety or when an older plant just has not worked out. I don't feel bad about pulling out these plants that did not work and don't linger in guilt since that just keeps me from creating the best garden I can. I just try to learn why that plant was wrong for my garden not make that mistake again.
If you would like to "play along" now is the time to cast your eye over your stash, your whole stash, open those bags tucked in corners, that fabric shoved in boxes and take some photos, your smart phone will do for this task, take some photos and then look back at them.
What makes your heart leap and what makes you feel squirmy and uncomfortable?   Start there…. then let's meet again and get started on curating the sort of stash you dreamed of and that does your quilts proud.
In between time tell me about your stash, is it your useful servant or more of a petulant employee?