The twice a year "big dance" for the quilt industry starts next week and I am already packing lest I forget something like underwear or the quilts I am to bring.
The house is being readied and at the very last moment I will fill it with food since if done a second too soon they will also eat that like the nation is about to be invaded ( Happen to anyone else?)  Leaving a house with three men in it requires more food than one can possibly imagine but they also have access to a bevy of fast food so I am sure they will not starve! Honestly I should just hire local food trucks to troll the street in front of the house and not bother with the shopping!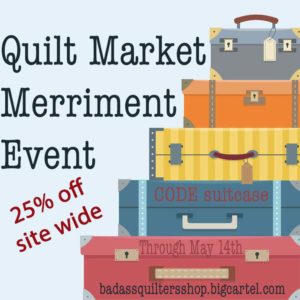 The BAQS online store will be open and shipping through the 14th. It will remain open while I am gone but orders on the 15th- 21st  will not ship until the 22nd of the month – SORRY
BUT NOW IS THE TIME TO CATCH YOURSELF A SWEET DEAL!
As way of an apology we are having a little event in the store where you can score 25% off your orders placed now through the 14th.  Use the code suitcase for 25% off your entire order no matter how much you purchase!
All orders before the 14th will be shipped no later than the morning of the 15th and then after that you can find me in panic mode trying to get all my last minute stuff done and wondering what my chances are of being pulled off a plane flight in dramatic internet worthy fashion ( anybody else pondering this sort of thing before flying these days?)
Shop it here baby!!!  <—-click. and don't forget the code suitcase