Well I have to say that right now I feel lucky to be getting this post up.. life has been seriously getting in the way… is it ever that way for you?  I have currently made my way to my office … a slow go at best given that my knee looks like a very ugly cantaloupe and hurts like crazy. And when I say hurt, I am a woman who has given birth to 11 pound babies unmedicated and started back to work the day after having a hysterectomy.. and people.. this hurts!.. Current best guess is that it is a Baker's Cyst, but I hope to know more on Monday.. so perhaps when you are reading this I will have already have had it drained and feel SO very much better… let's just hope for that huh??
But no matter… it is week THREE and I am so excited about how many of you are playing along and coming to learn about notions that I think you are going to LOVE.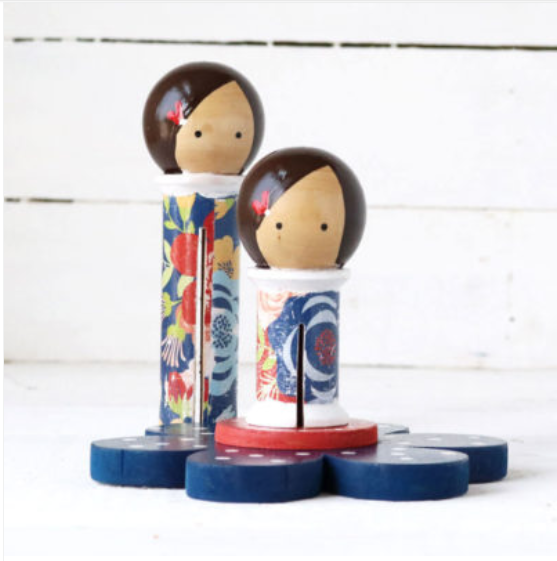 First up today is a product that some of you have caught site of in my videos when I was talking about binding.  Yes, I am the very happy owner of a Binding Babies Binding Spool!… Such an adorable way to keep binding ready for a quilt and then to help dispense it as I sew!
Full discluorse I am an Angel Backer for Binding Babies because I love to see a new business succeed!
But maybe you need one right away!…I am thinking of this as my GO-TO gift for the sewers and quilters in my life this holiday season. Can you image this cuteness in your sewing room?…  Well the ever so amazing Shari of Doohickey Designs has sent a binding baby for EACH OF OUR WINNERS! So no matter which week you win in you will have a binding baby of your own!
As a sweet, sweet bonus one of our winners is going to be the proud owner of one of Shari's Ruler Roundups!

*********************************************
Next up, I could not be more excited to welcome Karen Kay Buckley to the Notions Round-Up. I squealed like a school girl when she agreed to come on as a sponsor. I am a serious fan girl of her products and of her scissors most of all.  Karen has been most generous and all of our winners will be getting one or more of her amazing products.
I think that when a quilter is the one who is creating a product for themselves and other quilters there is a level or care and knowledge that goes into the creation of the product. They know the challenges you are facing and are creating products that help you over come issues that hamper doing the best work possible.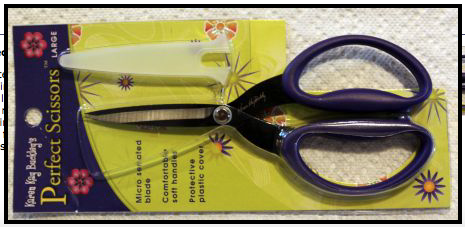 For me it is her scissors. Karen Kay Buckley Scissors have soft flexible handles that are easy on my joints which are often swollen or cranky coupled with being wicked sharp and having possibly the most perfect micro serration that grips the fabric and helps make incredibly precise cutting of appliqué a breeze! They come in multiple sizes for just about every project!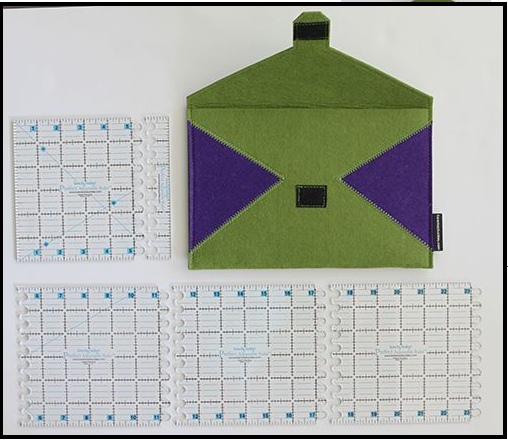 That said I had so many customers who sung the praises of her multipart rulers that I would be totally remiss in not giving them a serious shout out. These are the rulers that you need and want if you travel with your quilting .. to retreats, or vacation. Easy to pack and machined to a remarkable tolerance to fit together smooth like glass.
A new product to me is Karen's Perfect Thread Bag. I don't know how I missed this but I am in LOVE with this. What a great way to keep your hand sewing threads with you, tidy, dust free and the way they thread out through the suede strip… GENIUS!  As the owner of 7 cats who happen to have a serious passion for thread spools… or should I say unspooling… this is an amazing way to keep thread safe for you and FROM them not to mention move things around the house…without dumping things all over the place.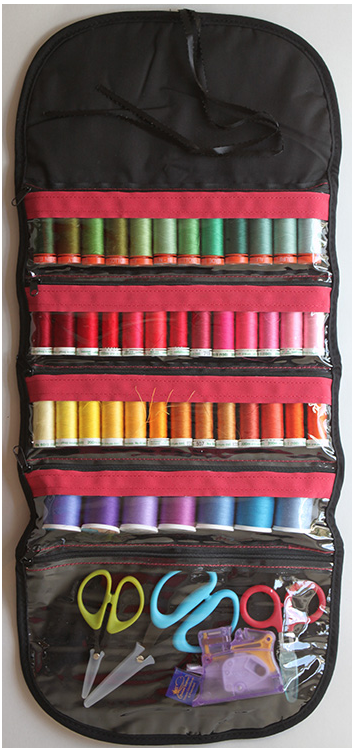 So cool huh?…. well I have even more to show you but will be saving that for a livecast this week.  I am thinking Wednesday but  keep your eye on the BAQS FB page to make sure!
Ok… you all know what to do!.. Leave a comment and this time tell me if any of these notions are new to you and perhaps which ones are on your lust-list for the coming days!! We will pick the week 3 winner on Friday. All winner packages will be sent out at the end of the month with a variety of products from our sponsors. Winning in any one week does not guarantee you the products from that week but does get you a large box full of amazing notions goodness from our generous sponsors!!