The days between Christmas and New Years always seem to have a magical quality about them. The closing out of a year and the  excited planning of the new year yet to come ( I already have my new planner.. do you have yours?). On my part it is with great excitement that we will be moving to a new house.. a house that needs a lot of work but that will be our home for the next 20 years at least. I adore feathering a nest and look forward to sharing all my adventures with you as we work our way through many..many projects and possibly not a lot of quilting but we will be creating a brand new studio! So, if you can't find me look under the bubblewrap and boxes I am sure to be there somewhere!
With so much to do I did want to take the time to thank each of you for being part of BadAss Quilters Society. It is my honor to head up this troop of extraordinary quilters and help bring voice to those in the industry who might not get their due otherwise. I can't say it has always been easy and there are days when I think about packing it all in. To be told by multiple companies that my demographic does not have enough "voice" for them to pay me for the work I do or to be shunned or dismissed as not of value,  yeah that stings, but it also lights a fire in me and helps me double down on growing BAQS large enough so they cannot ignore us.
As of this moment there are near 27 THOUSAND people who groove on our mission that quilting is for everyone and even more than that; a just and equitable industry where creatives are paid for their work, and no one is discrimanted against is important. Our last giveaway was seen by more than half-a-million people… Power in numbers baby!
These steadfast beliefs make it even more important that I shout-out to the companies that do work with us. Those who know that diversity matters and makes our quilting community an even more important place and safe haven for many. Of course I have spoken to you of my beloved  Fil-Tec and the amazing people at QT Fabrics.… today I want you to get to know the people at Colourwerx.
Linda and Carl rock my world with the fresh design and a spunky, bright asthetic that can bring a smile on even the most grey day!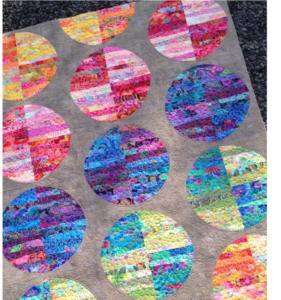 I could not be more ticked to be partnering with them to ring in the new year in quilty style.  We are going to help them celebrate the release of the new Mini Mod series by doing a giveaway here on the blog and over on the BAQS FB page!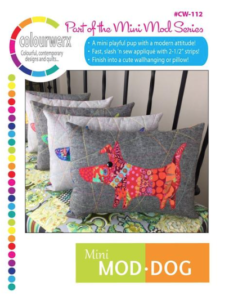 Here on the web page you need only leave a comment to win a chance at the cutest new MOD DOG mini kit that makes the most fun pillow! Filled with not only the pattern but also strips of Faffe Fasset fabrics, Essex Linen and even the button of the eye you are ready to sew soon as it gets to your mail box!    Our Winner is AMY DANE!
Keep your eyes open for  yet another giveaway over on the BAQS FB page… it will happen before New Years… so you will not have to wait long!  In the mean time make sure you get in on the Mod-Monster giveaway as well!..
And of course… we are all getting ready for January in which we will be counting down to the giveaway for not 1 but 2 sewing machines!!   Don't want to miss that?  Get any post here at BAQS delivered to you mailbox -just click this link to sign up
Ok.. here is the comment question –  What is your biggest goal for the new year???  – answer below for your chance to win! Winner will be picked on Jan 1st!