In a crowded room we can stand with 100's of others thinking we have little-to-nothing in common and yet if our stories where written across our foreheads; our joys, our pains, our fears we would know that we are each much more alike than we are different.

Shari Butler and I did not even know each other a few months ago and yet now I think of her fondly as I become the first Binding Babies Angel Backer to support her rewards campaign to launch her dream into high gear.
You see, Shari and I have both lost babies and it has had a huge impact on our lives, sort of like being members of the crappiest club ever. Being a mother ( or father) who does not get to bring a wanted and dreamed for baby home in their arms is possibly the deepest sadness one can know.
Healing from such loss is never easy and Shari plowed her energy into creating a loving memory and a very useful creation for quilters and sewists of all sorts – with that Binding Babies were born.  Such a simple product but SUCH a joyful help in the sewing room.  See how they work HERE.
Shari and her husband have made more than 10,000 of these adorable little babies and now comes the time to take the next leap and move to a bigger and better way to manufacture her darlings.
Big plans need big dollars to grow!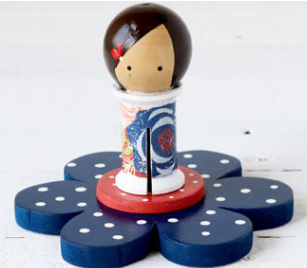 That is where becoming a Binding Babies Angel backer comes into play. Much like other group funding efforts Shari has created multiple ways to become an angel.
On my part I am so enchanted by these sweet babies that I am choosing the Limited Edition box for my sponsorship reward!   I am going to be dividing up the goodies and using them for totally perfect holiday gifts! … as well as a bit for myself…ahem.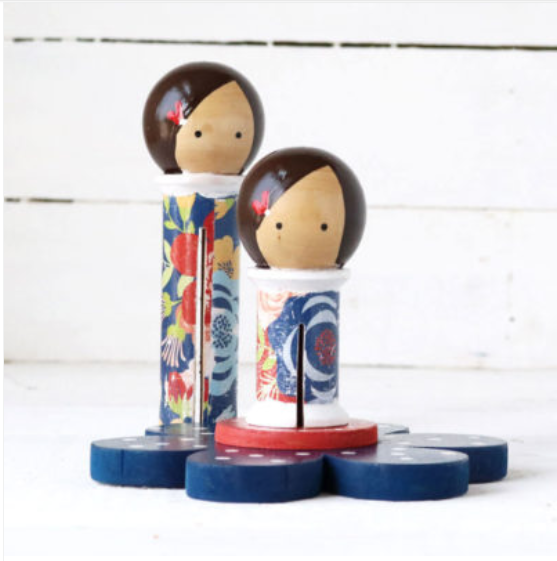 In the Limited Edition box I will be getting:
One Navy Floral Large Binding Babies™
One Red Floral Medium Binding Babies™
One Navy/Coral Flower Spindle™
One Binding Babies™ Dress Clip Jar
One T-Shirt – Choose size: (S, M, L, XL, 2XL)
A Binding Babies™ Bag
Binding Babies™ Enamel Collectors Pin
Of course leaner budgets that want to be part of making a dream come true can choose to just donate or get a totally exclusive Binding Babies embroidery pattern or a single baby and stand, there are many levels of sponsorship.
Of course I think these boxes have fantastic gift potential and if you agree and need more than one you get a discount!!
So no matter if supporting recovering from loss or watching a business dream come true is important to you I invite you to join me in becoming a Binding Babies Angel Backer.
Click on the video to meet Shari and learn more about her story and business goals. Or visit her pledge site and get your own sweet Binding Baby and become an Angel!  If video does not show up or play on your screen click HERE to see it in the native setting.

Can't live another minute without  Binding Babies in your own sewingroom.?… click HERE to see what is available!