What a weird winter is was and what a spring it will be! We are getting ready around here for  the sweet weather of spring. Freeing the toes from the confines of boots and slipping them into sandals, evenings at the Lake and the planning of summer vacations, let alone quilting retreats and show visits!
Might I suggest  while you are out and about that  you can be strutting your stuff and making it clear just what kind of quilter you are? We make this super easy with some super swag-a-licious BAQS gear!  The new t-shirts are on order, we have some cool new cell-phone wallets and  yes, there are a few more tote bags to be had! Most of the new products will ship middle of April if not sooner. Click here to check out all the new stuff!
The new t-shirt is for the girls (don't worry guys, we have a new short sleeve shirt on the way for you as well!). It is all business in the front and BadAss in the back. I tried on endless sample shirts and this one made the cut for being soft, with a nice scoop neck, stretchy, and not too sheer and in sizes up to 4xl. (As always Speakeasy members you can use your discount on all the BadAss gear)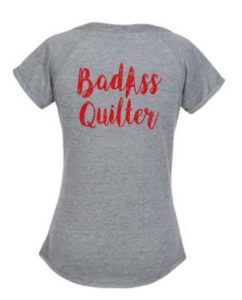 I am also excited to announce that 5% off all profits from BAQS gear and Speakeasy Memberships will be going to the Humane Society as an ongoing support campaign to improve the lives of puppies and kitties looking for their Fur-ever homes. I firmly believe that we each have something to give to make this world a better place, and your purchases help do just that! – So.. THANKS!