Not to scare you or anything but there are less than 66 days until Christmas.
Did I hear a collective gasp?.. a moan of terror? Visions of all those quilts you were going to make for each and every person on your list coming to mind and how you have exactly NONE of them done.
Well never fear because I am going to share with your quilts that you can sew in a day  or even half a day if you are speedy. Quilts with clear directions, bold lines and most are very stash friendly making them very affordable!
First off is Birch Bark  which is just waiting for you to use those those 2.5 inch strip rolls that you have been hoarding ( come on, you know it is true). We sell a shit-load of this pattern each month and there is a reason why. SUPER FAST construction that makes the most of a colorful array of fabrics making this pattern easy to use with anything from novelty fabrics to batiks. Finished size for the quilt is 48 x 64 and it uses one jelly roll or 42ish WOF strips cut at 2.5 inches wide.  Think of this as an AMAZING stash buster pattern.
( 42 Strips, plus 1/4 yard for contrast bar and 1/2 yard for binding)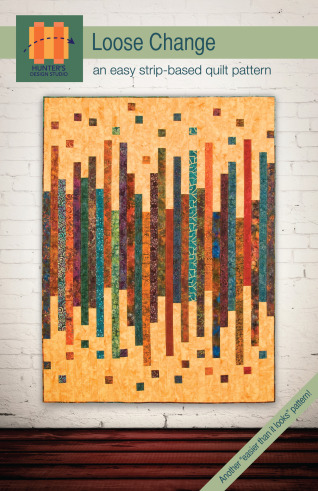 Loose Change is the next one up. This quilt is a bit bigger at 60 x 84 and it is visually a bit more graphic with bold lines that make it easy to see this quilt as pictured of course but also as a two color quilt.  Maybe all oranges and white for your favorite  TN Volunteer Fan?
I can also totally see this quilt being just smashing with the Miss Kate Jelly Roll and a matching solid.  Slap some of the Miss Kate flannel on the back and then give it to me!

( 30 WOF strips, plus 2.5 yrds of background fabric – 2/3 yard for binding)
Even bigger you say?????.. ok… How about some Easy Money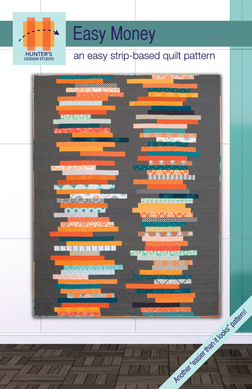 This quilt is 84 x 104 and is an easy and loose version of a "stacked coins" quilt. .. if you are not brilliant with seam matching this quilt it for you… as well as it's sneaky hints on how make make this quilt look cool and improvisational without a lot of fabric waste!  While many fabric will work well for this quilt focus on making sure that your background is in high contrast to your "coins". Pull from your stash with 52 WOF strips 2.5 inches wide or pick up a  jelly roll  to do the heavy lifting in this quick quilt.
Make it really modern with a Grunge Jelly Roll and some Grunge yardage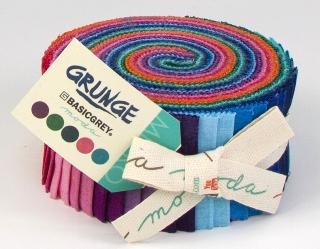 (52 WOF strips, 4 yards background fabric, 3/4 binding)
Over run with Fat Quarters?… Gather 14 of them into a color story and get to work on Fast Fourteen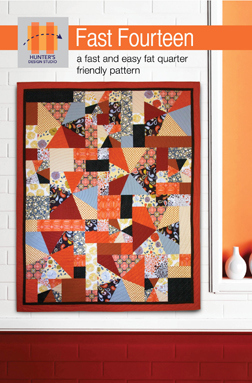 54 x 68 so just perfect for snuggling up. This quilt makes the most of that crazy collection of Fat Quarters you have been amassing.. it is time to use them!
(14 Fq's , inner border 1/4 yard, outer border 1/2 yard, 1/2 yard binding)
So there you go, 4 quilts that will have you knocking out gifts left and right in no time. …
Which one will you pick?  Leave a comment and if you would be so kind share this post and we will give away one copy of the pattern with the most votes at the end of the week!!
{ 50 comments }

all content copyrighted © 2014 BAQS