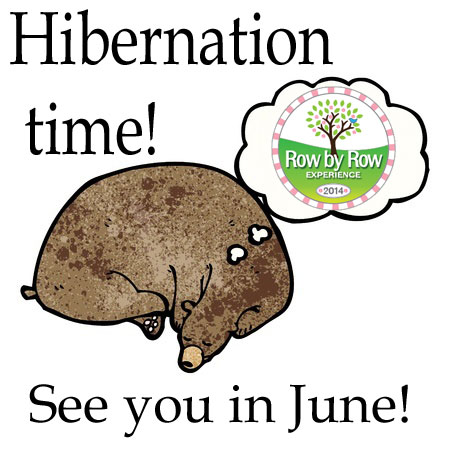 What a sweet summer it has been!  If perhaps you have been under a rock you did not hear about Row by Row and you did not join the joyful mayhem that has been quilters rushing from shop to shop nationwide, gathering patterns, kits and event fabric license plates!
Dang it has been a blast!  But like all good things it is coming to an end.
September 2nd is the last day of Row by Row for 2014.  For the next two months those who have been collecting have time to work on their quilts, and dream about next year's theme!
Shops have time to regroup and prepare for the upcoming holiday season.
THIS IS  GOOD THING!!!  ( no bitchin ok??)
Yes we are all sad to see the fun of Row By Row go into hibernation for a while, but like a party that goes on too long (been there done that), or that third helping of cake ( why are you looking at me like that?) even good things can be just too much if done for too long!
Please rest assured that any backorders of  fabric plates or kits  ( but NOT PATTERNS) that were ordered BEFORE Sept 2nd will be sent out ASAP, no need  to sweat it!
 BUT ARE YOU SAYING THAT WE CAN'T GET THE PATTERN ANYMORE???
Each shop that participated in RxR will decide Come Nov. 1st what they would like to do with their own pattern. This is on a shop by shop basis ( so yes, this means each shop gets to do their own thing!!)  Some shops will offer their pattern for sale, some will retire the pattern, some will expand up on their row for a special instore ( NON-RxR) experience.
But, but, but – WHAT ABOUT THE BADASS LICENSE PLATE???
Have no fear… we are extremely excited that we will be keeping our BadAss Quilter License Plate in stock and we will be bundling it into some VERY fun kits and developing projects around it. ( Again, each store will be doing their own thing!)
What About Next Year?
Row by Row will be back next year even bigger and more fun.  You can look forward to an even earlier start date, MORE stores and a new Row theme for your playing pleasure!
PSST… want to know a secret????
There is something new from the RxR people coming for some winter fun…….. keep on the watch for PostCard Party!!  It is going to be amazing!!!!
Are you excited??
{ 2 comments }

all content copyrighted © 2014 BAQS